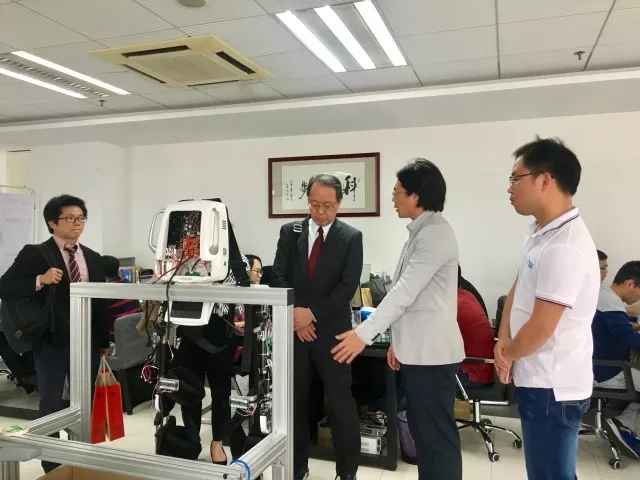 [Interview and Exchange] Prof. ISHIKAWA Masatoshi, a world-renowned robotics scholar, visited MileBot Robotics
March 28, 2018
MileBot Robotics is fortunate to invite Professor ISHIKAWA Masatoshi, the world's authoritative scholars in the field of ultra-high-speed vision and robotics, former director and vice president of the University of Tokyo, the director of the Department of Information Science and Engineering at the University of Tokyo, to visit the company and offer guidance.
Masatoshi ISHIKAWA
The first person in the world to study ultra-high-speed vision and ultra-high-speed robots.
Professor Ishikawa's main research directions are sensor information fusion, ultra-high-speed machine vision based on ultra-parallel processing, ultra-high-speed tactile, ultra-high-speed robot, machine perception, optical information processing, and cognitive action systems, etc.
His research results include high-speed baseball robot, 100% victory over human finger-guessing game (rock-paper-scissors) robot, biped high-speed running robot and other well-known project.
During the professor's visit, Dr. Ye Jing, the CTO of MileBot Robotics, was the main receptionist. Dr. Ye Jing, who studied at Waseda University in Japan, introduced the company's research results in Japanese to Professor Ishikawa.
Professor Ishikawa expressed strong interest in MileBot. During the communication, Professor Ishikawa put forward his own views to Dr. Ye Jing. They had a very pleasant chat.
Later, Professor Ishikawa also attended the MileBot's reception dinner. At the banquet, the two sides continued to explore the prospects based on ultra-high-speed vision technology. At the same time, they also have a deep discussion on the application scenario development and future development direction of MileBot Robotics. Professor Ishikawa expressed his great hope that the two sides could have more cooperation and exchanges, and he eagerly hoped that the Japanese robots and the Chinese robotics industry could generate more different sparks through more communication and interaction.